At press time, the price of bitcoin is 6400 or roughly 2% since yesterday's close. Most of the rest of the market is also trading a few percentage points higher, with ETC leading the way (+10%) after the announcement that Coinbase Consumer will be adding the name to its platform this evening. The positive price action is likely the result of two factors: 1) positioning ahead of a speculated short squeeze on Bitfinex and 2) futures expiration. On the former factor, Bitfinex currently has roughly $200mm of short positioning on exchange, outweighing the longs by nearly 25%. The last time short positioning was this high was early April. The subsequent squeeze then resulted in a quick 20% rise in the price of bitcoin. Speculators, traders and market makers are likely all positioning for a similar type of event to occur this time around. On the latter factor, CBOE bitcoin August futures expired yesterday (Wednesday before the 3rd Friday), which on the average has been an interesting inflection point for bitcoin price action. Bitcoin tends to track lower leading up to expiration and flip higher the days after (likely the result of large market participants trying to arb the basis). We have nothing more to say on this. For now, this dynamic exists and it likely will continue to exist (until it doesn't of course).
---
Join our mailing list to be notified about future reports, research publications and other ideas.
Though we strive to maintain a balanced view of the markets, there come times when we develop a very strong view around a particular topic or idea. In those moments, we feel that it is better to articulate those views and engage in dialogue rather than keeping it inside. With this week's thoughts we articulate two specific views that we have about the notion of indexing and the state of altcoins. If our conclusions run counter to your own views, please let us know. We'd love to engage in some good old fashioned debate. We believe that respectful dialogue between opposing parties is how great ideas get flushed out and how human consensus is reached (in crypto, politics and life for that matter). That being said, here are our thoughts for the week:
1. ​A crypto index isn't a benchmark, it's a gateway to licensing fees. We noticed an uptick in advertisements and promotional content pushing this notion that crypto indexes will legitimize the asset class for institutional investment. We noticed that there are companies in our space (coincidentally with traditional indexing vets at the helm) that have pushed out a number of index variants into the public eye. We've seen market cap delineated indexes, total aggregate market indexes and even *cough cough* smart beta indexes. Having been witness to the onslaught of traditional financial indexes that proliferated alongside the growth ETFs in the past couple decades, we are not at all shocked that this dynamic is making its way through into the digital asset world. But we have paused and asked ourselves if this is a good thing. On the one hand, we as fund managers fully welcome the equivalent of the S&P 500 in our world. It'll make our conversations with investors much easier if we had a legitimate bogey to target. The proverbial ​beta proxy is something this asset class needs desperately. But on the other hand, we also believe that crypto is just too nascent and too immature of a market for an index that contains more than bitcoin to make any sense as a benchmark of have any real worth as a market proxy.
There's just too much volatility and idiosyncratic risk associated with a critical mass of the top 100 cryptocurrencies. Individual market participants, social media influencers and liquidation mechanisms on leveraged exchanges can dislocate fair value prices at any given point in time. That is not an efficient market. Not yet. At the end of the day, our view is that an institutional investor recognize this as well and will most likely allocate to the most efficiently priced, most liquid and least volatile name – ​bitcoin​. What this investor will NOT be doing is buying digital assets that trade like penny stocks or assets that have even a 1% chance of being labeled an unregistered security by the SEC. So in our view, what sense does it make to create a benchmark to track these assets via an index? To us it doesn't make sense…unless we're talking about licensing fees. The reason why companies like S&P and MSCI have a relatively stable stream of cash flow from their respective indexing businesses is because its a relatively stable business vertical. Index fund managers, mutual fund managers and ETF issuers will pay out a small portion of the management fees to the index owner. At scale, this number on absolute terms is meaningful. This fee will likely be higher in the cryptocurrency space, given the higher costs and operational friction associated with data analysis, performance tracking, trading and custody. Its conceivably more expensive to manage a SPX index fund of 500 names than it is a crypto index fund of 5 names. So while an index may seem nonsensical from a benchmark perspective, it makes all the sense in the world from a business perspective. End rant.
2. Many altcoins will fail and eventually be delisted over the next several years. With the benefit of hindsight, it is now clear that the irrational exuberance that existed late last year and early this year marked the height of another bubble. Now, the bubble and deflation cycle must play out, and prices are rapidly declining to reflect more realistic investor expectations. Over the past several days, the total market capitalization of all cryptocurrencies reached $190 billion, a 77 percent drawdown from the peak market capitalization that was reached in early January. The current drawdown roughly matches the drawdown experienced by the NASDAQ-100 Index during the internet bubble which experienced a 78 percent drawdown at its trough, roughly 2.5 years after it peaked.
The magnitude of the current drawdown matching the drawdown experienced in the aftermath of the internet bubble raises the question of whether this is the bottom. However, it still feels like there are a number of weak projects (even in the top 100 coins by market capitalization) that either shouldn't have this large of a market capitalization or shouldn't even exist.
An analysis of historical project failures suggests that maximum pain in the altcoin market has not yet been felt. Investors should expect a total loss of investment in certain coins as projects eventually fail and get delisted. A group of researchers studying the internet bubble found that ​48 percent of of internet companies founded since 1996 were still around in 2004, more than four years after the NASDAQ-100 peaked in March 2000. Empirical data on cryptocurrencies indicates that a similar survival rate may be appropriate.
Projects fail when founding teams fail to achieve product-market fit, burn through their initial funding in bitcoin and ether, and resort to selling their initial allocation of their own tokens which craters the price. Founding teams rationally give up on the project, and the project officially fails when the last exchange delists the token due to low trading volume. Many people think that project failures are concentrated in the ultra small-cap names (outside of the top 100) but even coins within the top 100 fail over time. Most projects are still reliant on the efforts of the founding team or company. Few projects have advanced to the stage to reach true decentralization which ensures that the project can live on.
We undertook a study that took a snapshot of the top 100 coins ranked by market capitalization that existed on various dates and tracked how many of those 100 coins were still trading over time. For instance, of the top 100 coins that existed on January 2015, only 64 currently trade. Of the top 100 coins that existed on January 2016, only 77 currently trade. In total, four vintages were studied consisting of snapshots taken in January of 2015, 2016, 2017, and 2018.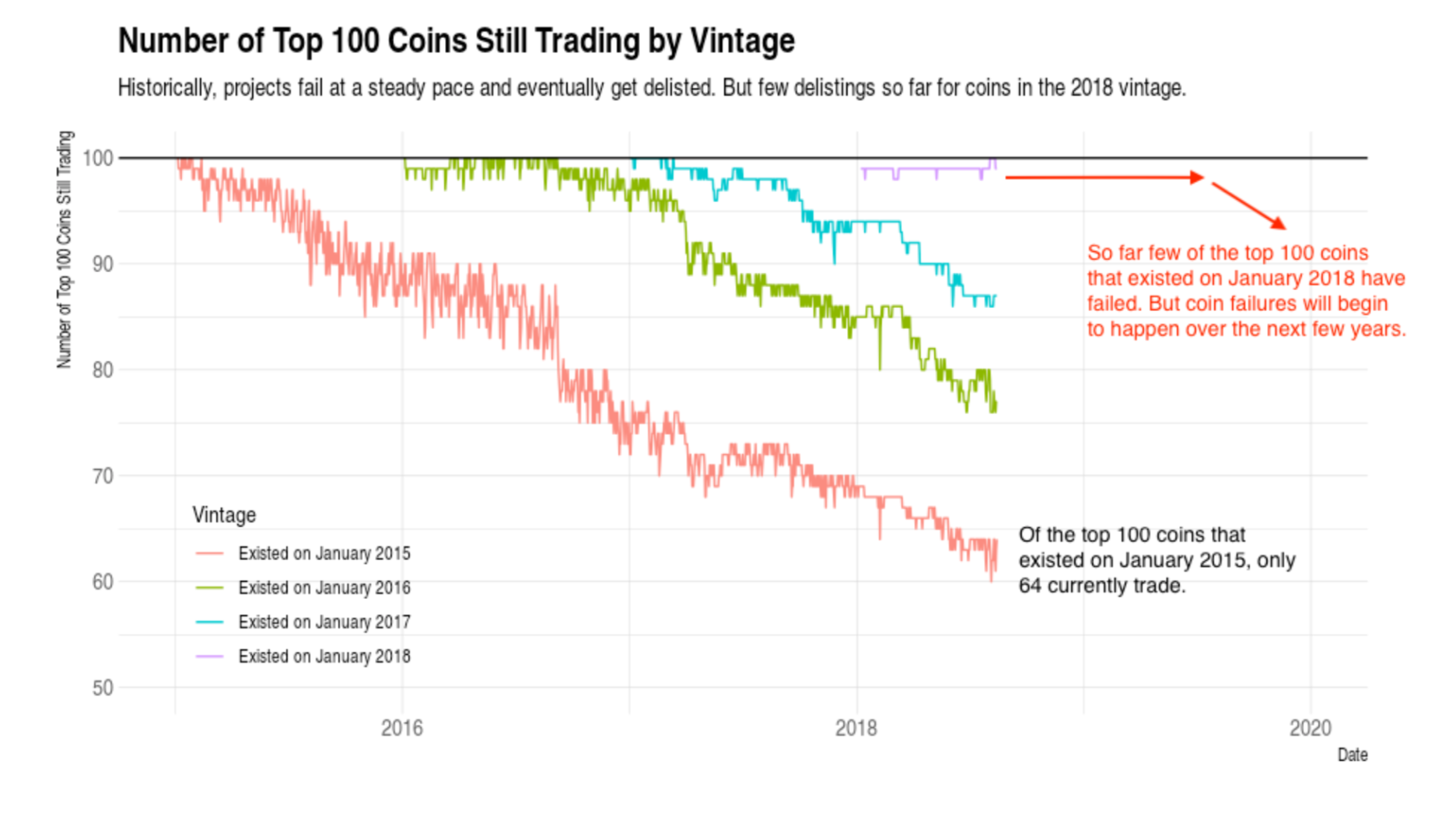 Project failures seem to happen at a steady clip across all vintages (with the exception of the most recent), and investors should expect this trend to continue. The January 2018 vintage is the first vintage of the modern initial coin offering era where projects were able to raise large amounts of funding in bitcoin and ether. This provides many projects with a long runway, and thus far only one project of the most recent vintage has failed. Some vintages (like the January 2016 vintage) show that there may be periods of a year or more where few projects fail. But eventually the funding runs out and founding teams give up. The timing of when some of the top current projects will fail is dependent on the price of ether, the treasury management policies of the founding team, and the project's burn rate. If historical vintages are an indication, this can start occurring in 2019.
This survival analysis means that for investors that desire long-term buy-and-hold exposure to cryptocurrencies, investors should choose projects that are resistant to failure. A careful analysis of the founding team's funding, burn rate, and treasury management policies is also necessary. We see three types of projects that are resistant to failure:
●  Projects that have already achieved sufficient decentralization such that the success or failure of the project isn't dependent on the efforts of the founding team.
●  Projects that are connected with a separate company that has the ability to generate revenue or profits.
●  Projects that otherwise have a consistent source of funding through mining rewards or other methods.
Thanks for reading everyone. Questions or comments, just let us know.
Portfolio Management Team
Thejas Nalval  | Kevin Lu
Disclosures
This Commentary is for informational purposes and does not constitute investment advice, any type of recommendation or an offer to sell or a solicitation to purchase any securities from the Element Digital Funds or an entity organized, controlled, managed by or affiliated with Element Capital Group, LLC ("Element Group").  Any offer or solicitation may only be made pursuant to a confidential private offering memorandum which will only be provided to qualified offerees for careful review prior to making an investment decision. We aim to educate, report and/or opine on certain developments relating to the digital asset market. These are our subjective views, based on information and sources we believe to be reliable as of the date we publish, but we make no representations or warranties with respect to the accuracy, correctness or completeness of our opinions or any information herein and have no undertaking to update it.  Please do not rely on it.
Element Group and/or its affiliates and personnel have made investments in some of the assets or instruments discussed here, and may in the future make additional investments (long or short) in such assets or instruments without further notice. Element Group does not, here or anywhere, provide accounting, legal or tax advice, or make investment recommendations.  Please do not rely on us for the foregoing. We strongly suggest that prospective investors seek independent advice with respect to any investment, financial, legal, tax, accounting or regulatory issues discussed herein.
Certain information contained in this Commentary constitutes "forward-looking statements," such as statements that include the words"may," "will," "should," "expect," "anticipate," "target," "project," "estimate," "intend," "believe".  There are so many risks and uncertainties that actual events or results or the actual policies, procedures, and processes of Element Group and the Element Digital Funds and the performance of the Element Digital Funds may differ materially from those reflected or contemplated in such forward-looking statements.  Please do not rely on forward-looking statements. Past performance is not necessarily indicative of or a guarantee of future results.
This Commentary is confidential, is intended only for the person to whom it has been provided, and under no circumstances may be shown, copied, transmitted or otherwise given to any person other than the authorized recipient.